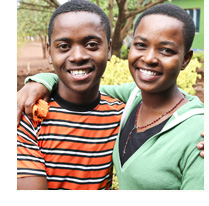 Increase Support of More Pioneering Minds
Knock Foundation has successfully maintained over 40 scholarships through a combination of private sponsors and general fund donations and adds new students every year. The need for these scholarships increases as we continue to support alumni of the Matumaini Child Care Center and receive applications from so many other inspiring students maintaining stellar grades in light of significant personal financial difficulty. Knock will continue to assist in improving the access to quality education for these children.
Conscious Club Expansion
In early 2015, Knock piloted our healthy living seminar curriculum as an after school club program at Mrupanga Primary School. The initial month was so exciting and garnered so much interest from other schools that we quickly expanded into three more primary schools. We plan to maintain these programs and aim to continue adding clubs around the Kilimanjaro region and beyond, helping to give youth leadership training and healthy living curriculum to supplement their formal education and lead to more successful and capable adults.
Garner Support for Knock's Medical Missions
Knock will continue sponsoring medical missions to Africa, Central America and potentially Asia. Our team of volunteer doctors will continue to put their incredible skills to work in a part of the world where basic medical care is often lacking. This will enable Knock to expand its ability to provide care to the various communities we serve.
Garner Support for Knock's Ongoing School Building and Community Volunteering Efforts
In keeping with our core belief that everyone has the right to an education, Knock seeks out opportunities to provide a safe, friendly environment for local children to pursue their dreams for generations to come. Knock plans to continue pairing school-building and community projects with its future medical missions.
Increase Donations of Medical Equipment, Supplies and Medicines
Knock provides ongoing shipments of a wide selection of heath care products and supplies to health care facilities. These supplies enable Knock to expand its ability to provide care to the various communities it serves in Africa and Central America. Knock welcomes both donations of medical equipment for every specialty and health care supplies, including medications, disposable surgical items and other supplies. Moreover, we will also accept expired supplies as many of the facilities with whom we work readily accept such supplies that are not otherwise used in the United States.
Add Schools to the School Lunch program
Knock's lunch programs at Mrupanga and Longuo Primary Schools have proven to be extremely beneficial to the students. The program feeds approximately 850 students daily lunch for the entire school year. We have seen improved attendance, increased engagement in class and higher exam scores as a result. For many children, the lunch Knock provides is the only meal they eat during the day, illustrating the need for such a program. We plan to continue extending our reach into additional schools throughout the coming years.