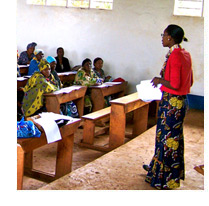 Conscious Club
2015 brought the exciting reincarnation of our Healthy Living Seminars, developed into a permanent primary school program, the Conscious Club. Each club comprises 60 students, divided equally between girls and boys across grades 3-7. Meeting twice per week, the curriculum was developed in partnership with YOCOSO, a local, youth-run, Tanzanian NGO dedicated to reducing the spread of HIV/AIDS and drug use in the Moshi area of Tanzania. They teach topics in life skills, reproductive health and family planning, drugs and alcohol and HIV/AIDS through a highly participatory method that includes drama, music and dance.
The following video gives a comprehensive overview of Knock's educational projects, including a section on the Conscious Clubs.
---
We surpassed our 2015 goal by establishing the Club program in not one, but four schools and added a fifth in 2016. We plan to continue expanding the Club into more primary schools. The annual cost per student is $50, or $3,000 per school.